Home for the Holidays!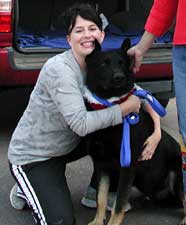 CYNDI & HEART ARRIVE FROM YUMA
HEART MEETS NEW MOM TRACY
TRACY, HEART AND NEW BUDDY CHRIS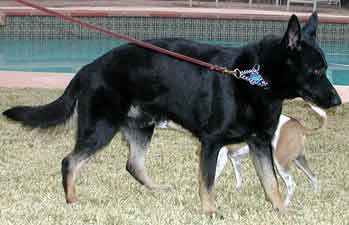 HEART AND LIL BIT GETTING ACQUAINTED
ONE LONG DAY-ONE SLEEPY DUDE
UPDATE 12/16: What a hunk!! Heart appears to be out of Czech and or East German lines, possibly West German working lines. He is built to work and has a regal headpiece. He has strong hindquarters, a wide well proportioned chest, and a beautiful thick coat. Cyndi has done a remarkable job of restoring him to health; his weight is perfect (probably around 90+ pounds), paw & toes just about completely healed and nary a hole in either ear! Only a small, faded circular spot on his muzzle remains as a reminder of his recent and nearly ill fated adventure.
Heart is more dog than we expected; very alert and aware of everything going on around him...sort of serious. We're convinced he was previously strictly an outdoor or kenneled dog, had not been walked on a leash and never socialized. He does not know how to play with toys, doesn't know what a ball is and barely knows "sit"...yet another blank slate ripe for learning. In less than ten minutes we had him in a perfect heel; he's very responsive and respects, actually needs leadership.
Despite his lacking past, he did well with Lil Bit, an 18 pound Rat Terrier. He's never learned any manners so he comes on strong and barking and must be introduced to unfamiliar dogs slowly and appropriately. He simply doesn't know any better. Nonetheless, he has an even, confident temperament, shows no aggression at all, and as do most GSDs, wants to be near his people. He's not real kissy face...yet...have a feeling that might change ;-0)
The first order of business is to introduce him to more freedom and indoor living. He must learn the boundaries that go along with sharing a space with his human family, the ultimate goal being total run of the house and trustworthy when left alone. In typical German Shepherd fashion, it took him exactly 8 seconds to figure out the dog door.
Heart has several vet trips in his future. He seemed very watchful with cars and while very subtle, moved his right rear leg out ever so slightly when trotting. He could have been hit by a car, it could be a bad hip, an old injury, soft tissue damage that's still healing or absolutely nothing, but we will probably X-ray it soon. His teeth are a mess and that will be his last stop. First we need to see what his blood work says. If all is OK, he'll be neutered and we might even remove his rear dew claws.
Join us in celebrating Heart's new beginnings. There's lots more work to do, so it will be fun watching him progress. His foster Mom Tracy has agreed to go to school with him and bring him out to the park for supervised socialization. Big hugs to Tracy and her son Chris for taking Heart on and granting our wish for him to have a home for the holidays!
UPDATE 12/20: We visited the vet yesterday, did a complete exam, drew blood, checked out his right rear leg and microchipped. The results of his blood work showed normal ranges for all but his elevated globulin, which is usually indicative of an infection, and his Erlichia (tick fever) titer was still a bit high, so Heart is going back on his medication for that for another 30 days. The good news is that he is not showing any symptoms so we're confident that this is a winning battle.
His Valley Fever results are not yet in and he was NEGATIVE for Heartworm. Even though his platelets were normal, we're going to hold off on any surgery. Heart's right rear leg was painful to palpation, so something is going on there...the vet felt it was in the knee. This dog was apparently in a horrific fight for his life with another animal so we're going to give any soft tissue injury more time to heal, then off to another vet for hip and leg films, probably right after the holidays.
Heart weighed in at 87 pounds; exactly where we said he should be when rescued at 64 pounds! He is doing beautifully with his Rat Terrier friend LillaBit, walking on lead like he's been doing it all of his life. Heart was left alone and loose for a little over an hour today (a bit risky if you ask us ;-) and was a good boy...no damage, no accidents. He's a happy and calm guy, easy to live with and as do most German Shepherds, loves to go with and ride in the car.
We've still got some hills to climb but there is no doubt that Heart is worth whatever it takes!
UPDATE 12/21: Heart was NEGATIVE for Valley Fever--Whew! But his Erlichia titer was very high. His Thyroid was normal as well.
There's no doubt that it's going to take support in the form of additional resources to address Heart's remaining issues. His dew claws, labs, medications and initial X-rays are already covered thanks to the generosity of our friends.
THANK YOU SO MUCH!
Just as soon as we have the orthopedic and dental consult, we will have a better idea of what is needed in the way of help.
UPDATE 1/9: Heart sees another vet for his leg on Friday and the dentist next Thursday, the 18th. Dr. Visser will have to anesthetize him for the exam & X-rays then lets us know what needs to be done. Decisions will have to be made while he's under and the work will be performed the same day. We know that a root canal alone is $1500.00, so we're aware that we're in for a ride.We hate to have to put him through all this, particularly since he's doing and eating so well, but it will only progress resulting in lost teeth down the road. He was bleeding slightly at the gum line when munching on a bone, so we must restore his mouth to a healthy condition as best we can.
Heart has been a pleasure to live with and has been increasing his vocabulary daily.He's very receptive and obedient. He knows sit, down heel, leave it and come...working on stay. He will also voluntarily go into his open door crate on his own when he wants to nap or chill. He's a very happy, upbeat guy who has learned to get really excited at the sound of his leash and car keys. He no longer pulls...walks like a gentleman.
He sails over the shorter landscape fences within the yard like a gazelle...very fluid and with ease.He has not yet caught onto playing ball, will go after it but defers to Lila Bit when it comes to retrieving. He puts up with her competitive behaviors without challenge and they chase birds and patrol the gates together. Heart's been left alone, loose in the house on several occasions and has not gotten into any mischief. He will however, counter surf (a GSD specialty) so Tracy has learned that she better not leave any enticing morsels unattended ., Please stay tuned for the results of our boy's doctor visits.
UPDATE 1/12: Heart has hip dysplasia; fairly mild on the left but closer to severe on the right. He is asymptomatic, not in any pain, no limp. The vet feels with good management, he should do fine for quite a while. IF and at what point this might change is anybody's guess..it's a matter of the extent and when boney changes occur.
His exercise will be low impact and he'll be doin the pool this summer for sure. With good surrounding structure, and weight management--vet says he's perfect now at 88 pounds--he could cruise for years. He's also a good surgical candidate should the need arise..time will tell. On the upside; no soft tissue or knee damage from his Yuma trauma. Sure hope the dentist has better news but we're realisitic.
OH MAN, DO WE NEED HELP
Our dreaded dentist visit took place today, in fact, Heart is just coming out of nearly four hours under anesthesia as we write. We knew about his canines and general poor mouth health but really didn't realize the extent of his problems until we got an up close good look at his entire mouth today. Not unlike humans, an unhealthy mouth, with which our canine companions do just about everything, makes for an unhealthy dog. The degree of neglect and trauma to his teeth was "Heart breaking"
To completely restore Heart's mouth would have run a little over $10,000. Yup, no extra zeros in there! Needless to say, a small, breed specific rescue must make decisions based on the greater good. Our primary objective was to save his canines. For those of you not aware, a dog's canine teeth have a VERY long, substantial root structure extending well into the jaw. Removing them puts their jaw at risk of breaking easily and general lack of stability. For overall health, function (eating & defense) as well as appearance, we opted to make them a priority. Several of his molars and bottom front teeth were rotten, broken or about to abscess.
Some of the info we posted initially came from the front desk, before we received a full report from Dr. Visser. We now have Heart's post op chart in hand:
He had eight badly fractured teeth of which very little remained above the gum line; five were extracted and the three canines rebuilt. Those 3 canines had root canals, we chose to forgo crowns and had them filled, smoothed and bonded...the 4th is chipped but OK. It took forty sutures to close all surgical sites.
We have since received a revised bill from Dr. Visser's office who, by the way, did all they could to keep our cost down by being creative and conservative and removing some items such as antibiotics that we already had on hand.
Dr. Visser and his staff got our bill down to $3,500.00! That still leaves us about $2,200.00 in the red after utilizing all donations thus far received.
It goes without saying that this expenditure has put a HUGE dent in our reserves. We were concentraiting on trying to raise funds for a sorely needed rescue vehicle, which is now very much on the back burner. On the upside, Dr. Visser repeatedly said what a really nice, fine dog Heart is. But we knew that ;-)
Once he has recovered from his oral surgery, Heart will have blood drawn to check his Tick Fever titer and if it has lowered suffuciently, will then be neutered and have his floppy rear dew claws removed at the same time. Finally, there is light at the end of the tunnel!
ANY help in the way of donations to cover his medical bills would be appreciated by Heart & SWGSR more than you could know. There are countless GSDs out there needing us; we must stay financially sound to stay afloat and be there for them.
Thank You, Thank You to all who have made Heart's treatment thus far possible.
FOSTER REPORT-1st Day Post-OP

"Well, I continue to be amazed at the bravery and character of our Heart.

He spent the night in his crate quietly - I put a new clean Scooby Doo blankie in there, took the old one away, and put a real cushy bed in too. He moaned a little but was very quiet and calm.

Woke up in the morning and as soon as he heard me up he came right on in, tail wagging, just as fine as can be. Incredible. Not smiling yet (because I bet that hurts) but all over me rubbing and sticking very close. Went outside just fine, ate softfood and yogurt, took his pain pill and chewed it up, and I'm gonna try to give him an antibiotic in a little while -- just want to make sure that pain pill is working before I touch his mouth.

He's laying quietly and is very calm -- Lillabit is leaving him alone -- she's curious but knows something is up and he's not feeling up to snuff -- everytime I go upstairs he's right there, head in my lap, wanting some comfort and affection. Not complaining, just being stoic. Walking around, using the dog door just fine, not his usual self but pretty good for what's he's been through.

What a guy."
48 Hours Post Op: Heart is better than normal...running, playing with Lila Bit. He seems to be celebrating something! We think we know why; Dr. Visser said that he had a mouth full of exposed nerves. If you've ever been there, you know how just ONE feels! With that kind of pain gone, Heart has good reason to celebrate. Photos of his land mine of a mouth will be posted shortly.
| | | |
| --- | --- | --- |
| Friends at last | Hmmnnnn---Lunch? | Heart surveys his domain |
UPDATE 2/15: Tomorrow is, we hope, Heart's last surgery. He will have lab work to check on the status of his Tick Fever, his floppy rear dew claws will be surgically removed and he will be neutered.
The remaining balance on his medical bills, after donations, is a little over $1600.00. We're shooting for a grand finale on the tentative suture removal date of February 28th, exactly five months from his initial rescue (and assigned birth) date! That gives us 12 days to raise $1600.00...can you please help?
Click on the image at left to give Heart a helping hand (via PayPal). Donations may also be sent to:
Southwest German Shepherd Rescue
4216 W. PARADISE DRIVE
PHOENIX, AZ 85029-2941


September 28, 2002, honors the day Cyndi's role and Heart's odyssey began and 2002 puts our boy's age just about right.
We know you join us in wishing Heart smooth sailing and a speedy recovery
UPDATE 2/16: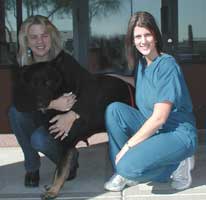 HEART MAKES HIS EXIT FROM WHAT SHOULD BE THE FINAL "ASSAULT" ON HIS NOW HEALTHY BODY MOM TRACY AND HIS FAVORITE VET TECH CANDICE THOUGHT THEY WOULD HAVE TO LIFT & LOAD HIM INTO THE NEW SUV TRACY BOUGHT FOR HIM..NO WAY..HEART JUMPED RIGHT IN, TAIL WAGGING, JUST HOURS AFTER HIS DOUBLE SURGERY! RESULTS OF HIS BLOOD TEST DUE MONDAY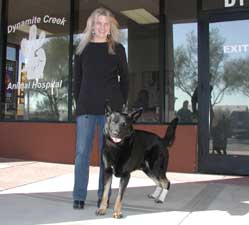 let's get outta here
UPDATE 2/29: Heart's Erlichiosis titer remains unchanged. He had been actively treated for over two months and has no symptoms whatever. It is believed that he was sick for so long, his body produced massive amounts of antibodies. We have been advised not to resume any medication as it sometimes takes up to a year for the titer to reflect that there is no active infection. Heart will have all new blood work done in about two to three months. His Tick Fever test will be a PCR..a very specific test done in a sterile environment which has to be sent out of state. It is the most definitive test available. We are very optimistic that the test will reflect a clean bill of health. Meanwhile, his recovery from his most recent surgery is uneventful....countdown to suture removal!
UPDATE JUNE 21ST: As planned, a PCR test was done and sent out of state last week and the final results are in: Heart is totally NEGATIVE for Tick Fever.