We first heard about Stormy from our friend in California, Rosie, who was trying to assist the owner in finding a rescue for his dog. Rosie had been tagged on a facebook post that read "SHELTER BOUND" and reached out to us to see if we could help.

What we've been told: Stormy's great with cats, dogs, children and people. She's updated with her vaccines. She's been kept outside (except when it rains) all her life. The owner got her from his grandmother who breeds them and his brother was going to take care of her, but he completely blew all responsibilities off. Her owner has no use of his left arm and cannot take care of her.

Also on the post was an offer of a foster, so we quickly sent Rosie into action to set up the transport to get Stormy out of the bad weather and INDOORS ASAP. California nights are very cold and wet, and a puppy has no business being outside PERIOD, let alone at night in inclement weather. By 6pm, Rosie had a transporter all set to go and pick up Stormy and transport her to her new foster home.

<!IMG SRC="images/Storm-10c.jpg" HEIGHT="225" WIDTH="187" BORDER="0">
<!IMG SRC="images/Storm-10b.jpg" HEIGHT="225" WIDTH="167" BORDER="0">

Can someone get me outta here, please?
8PM UPDATE: Transport picked her up ~ she's a total sweetheart. She said she is totally shedding like crazy and smells!
Regina arrives at Stormy's home to meet her and transport her to her new foster home, and boy was she ever excited!!
Stormy meets Regina
Removing some dirt and fur for the drive
Our thanks go out to Regina, who made the trip to pick up Stormy and transport her to her new foster home with Carlie in the Hollywood Hills. We have no idea how long the trip was; we only know that an exhausted Regina arrived home after midnight, after delivering Stormy safely into the hands of her foster mom. From a backyard outdoors to indoors in Hollywood! How lucky can a little girl get?

Brought in when it rains? How come I'm all wet?

Regina and Stormy are ready for the road

Hooray for Hollywood ...

... and Carlie and Roya who opened up their hearts and home to Stormy

Stormy is smitten with little Roya ... we think it's mutual

Roya takes Stormy on a tour of her bedroom
According to Rosie, our new foster mom previously had a rescue of her own saving, cats, dogs, ducks and all kinds of animals. She's planning on crate training Stormy to begin with and has already started working on her basic training.
FIRST FOSTER UPDATE: "Good morning, Nancy, Storm is doing well. She loves my daughter to death and likes the cats. I'll look for a groomer. ...I'll start training her. Such a beautiful girl."
UPDATE 3/9: According to her foster mom, Stormy chased after one of the cats this morning -- no harm was done. We're trying to confirm whether this was a normal puppy reaction to a cat zooming around the room, or whether Stormy has truly changed her mind about living with a cat! We'll definitely be keeping an eye out. It's just too soon to make any determinations about Stormy as she's still settling in and getting used to being indoors.
UPDATE 3/10: Surprisingly, we were told by Stormy's foster mom that she was reactive around men! Since she had come from a home where she was owned by a man, and there were frequent visiting adults of both sexes, we decided to do a test of Stormy on our own.


As expected, no problems here!
We have, thus far, confirmed the owner's information that Stormy is good with men and children. We'll be working on other dogs and cats just to be sure.
UPDATE 3/12: Due to circumstances beyond our control, Stormy had to be moved today. Our thanks go out, once again, to Regina and to Chuck and Jon who transported Stormy from North Hollywood to the Riverside area where she will be safely enjoying the hospitality of Husky Camp.

On the road to Asuza with Regina

Regina turns over the leash to Chuck

Storm & Chuck

Ready to load up with Jon
UPDATE 3/21: Stormy had her spay surgery today and came through without complication. We were notified afterwards that she was in heat, so we're very happy we were able to get this taken care of before we had a litter of puppies on our hands! Stormy is doing well and should be arriving in Phoenix within the week.
UPDATE 3/22: Thanks to our dear friends at Husky Camp, Stormy arrived in Phoenix late this evening. She is completely frightened and bewildered at the turn her life has taken -- can you blame her? Our initial impression is that she was never properly socialized as a young puppy and, in fact, never went beyond the boundaries of her backyard, which leaves you with a dog that is highly suspicious of anything "strange" to her. Unfortunately, when you don't raise your GSD pup properly, this is what you wind up with. She was definitely better with our (female) staff member and is being given a chance to get her bearings to allow us to see what she's really all about so that we can better assess what kind of a forever home would be best for her. She has youth on her side and we're hoping it's not too late for her to broaden her horizons and learn about the big wide world around her.
Please check back for updates and pictures. She's a beautiful girl; larger than we had thought from her photos. We'll give her time to decompress then try for new photos.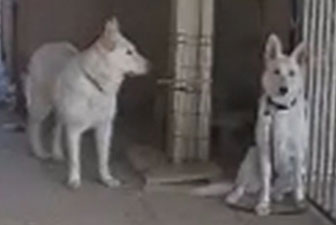 Snowman is determined to make friends with the pretty new girl in town
Adoption fee to be determined.
DUE TO THE HIGH INTEREST IN STORMY, WE ARE UNABLE TO ACCEPT
APPLICATIONS FOR HER AT THIS TIME.

If you are interested in Stormy, please fill out our <!A HREF="https://www.swgermanshepherdrescue.com/PROSPECTIVE_ADOPTER_QUESTIONNAIRE.HTM" target = "_blank">PROSPECTIVE ADOPTER'S QUESTIONNAIRE. You will be contacted by return email. If you do not receive a response within 24 hours, please Email Nancy at WhiteGSDRescue@AOL.com. This questionnaire link is only for Stormy or other white German Shepherds on our site. WE WILL NOT CONTACT YOU until a questionnaire has been completed.