OCTOBER 2008
Congratulations to Gene & Betsy Hackman & their gal Maisie on Maisie's BH title under SV Judge Harald Hohmann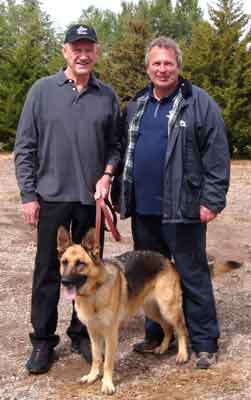 A very proud Pappa Gene with Judge Hohmann & Maisie
TRAINING RESOURCES
There are various types of training classes available and there are many large training "companies," not all of which we would recommend.

As a rescue devoted to keeping German Shepherds in their homes forever, we offer several alternatives contingent upon your specific needs. Please email us with your problem and we will make the appropriate recommendations.

Click on the underlined class name for detailed info
RESCUE BOOT CAMP
(CLICK FOR INFO)
A novice obedience and socialization class for rescue, shelter-adopted and privately owned dogs--all breeds welcome--given on a donation basis held on Saturdays (the 1st and 3rd of every month) at Deer Valley Park during the fall and winter. Offered by White German Shepherd Rescue on a FREEWILL DONATION BASIS. Class schedule posted online on the
RESCUE BOOT CAMP page.
EMPHASIZES social skills, basic walking and obedience, dog interaction with supervision
and twice a year, preparation for an AKC Canine Good Citizen Test.
<!CGC TESTING ><!(Date to be announced)>
Email Bert & Nancy at WhiteGSDRescue@aol.com
TRAINING the TRAINER
This is a one-on-one, private session with you, your dog and instructor Steff Smith of SW German Shepherd Rescue. Can be during the week or weekends as schedules permit. It is geared to address handler-related problems with dominant or fear aggressive dogs, as well as other behavioral issues to which inexperienced handlers unknowingly contribute. This is an excellent foundation from which to follow up with a recommended group obedience class where newly learned skills can be immediately applied.
Held at a public park in North or NW Phoenix by appointment on a time available basis.
We regret that we are not able to provide training via lengthy emails; please submit your dog's profile then give us a call: 602-866-2880.
Please visit TRAINING the TRAINER and submit Your Dog's Profile Form.
A WORD FROM OUR FOUNDER ABOUT TRAINING

FOR BASIC, ADVANCED OR COMPETITIVE OBEDIENCE TRAINING, ALL LEVELS, WE RECOMMEND:
USCHI FUCHS of K9U International ~ 602-828-3661 Email: K9UPhoenix@gmail.com

*PLEASE MENTION THAT SWGSR REFERRED YOU*
ASSISTANCE DOG TRAINING
We are also often able to refer to trainers in various areas of the valley