Cedric was found roaming at large in a rural area of El Paso, Texas. A good Samaritan involved in some rescue work grabbed him and turned him over to a local boarding/training facility, the owner of which just happened to be German and quite familiar with our breed. After much communicating, planning and transport arrangements, Cedric was picked up by one of our staff volunteers and taken to the Sierra Vista area for a stop over in her home while we worked to secure a Phoenix area foster.
We later learned that Ric was imported from Europe by the border patrol but ultimately washed from their program and was subsequently adopted by an agent; when that owner moved he simply left Cedric behind to fend for himself...nice huh? We were told that he was two years old however, we think closer to three or four..we never received the import papers from BP as promised.
Once in our hands, the ensuing months were spent doing a full medical work-up, house training, socializing and obedience training. It quickly became clear that Cedric knew no commands, ..not even sit, and had previously been an outside dog...we had a lot of work to do.
RIC'S SOFTER SIDE:


He has been a very good boy!

The following is a synopsis of his progress both with his initial and current foster families. We spent the summer getting this handsome boy ready for forever, but his 6 week obedience course was delayed a bit due to the excessive summer heat:

UPDATE: Ric arrived in Phoenix this morning. Thanks to his transporter and 1st foster Bridget. She and her husband Jim, our heroes, gave him a great start.

Bridget graciously spent the night here to help get him acclimated and assist with handling the new 3-dog pack. The 3 (staff) humans with 3 dogs worked well. We spent several hours with slow intros to his new roommates on neutral territory before starting the process all over again in the house and yard.

Ric had a very full and active day; and with each new challenge, nothing seemed to phase him. Bella has met her match in the busy department as they both ran like the wind, taking turns chasing each other. And while Monty, the king of his castle, desperately tried to get up over Ric's shoulder in a show of dominance (no aggression), Ric deftly avoided him, secure in the knowledge that he's much younger and faster. By Sunday morning, he and Monty were best buds and all walked shoulder to shoulder.

Given the high temperatures, walks, ball retrievals, non-stop running, etc., you would think they were all ready to take a break...nope..batteries re-charged, it was time for yet another new adventure; Cedric's very 1st swimming lesson.

The link below illustrates that, in short order, Ric said, "I got this". Next swim will be sans vest.

click FOR "RIC'S 1st DAY IN TOWN

"

CEDRIC PICTURED WITH BRIDGET, & HIS NEW PALS, BELLA & MONTY
After settling in with his new pack and foster, and his medical work-up, he will begin basic obedience class. He clearly has not had any basic training at all, has just learned to sit as well as "leave it", and we're already working on heel as weather permits.
UPDATE: By day 2 Ric was swimming without a vest, jumping in from the side of the pool, and found his way right to the steps. Talk about a quick study!
His vet visit is scheduled for June.
UPDATE: Ric had his vet visit this week; a full physical exam, complete blood panel and fecal check both in-house and sent to lab. The results of all were excellent. He was negative for Tick & Valley Fever and no parasites seen.
He is now a full time indoor guy, left loose at night without incident. We are awaiting the schedule from his trainer. Once his basic training has been completed he will be ready to roll.
UPDATE: Ric has had his 2nd basic obedience class and is progressing well. Since no one has ever really taught him much, he has what we call, a "puppy brain". Things that require impulse control such as down & stay take time and consistency to master.

MONTY, BELLA & CEDRIC IN A DOWN-STAY HAVING ONLY RECENTLY LEARNED "DOWN" CEDRIC (FAR RIGHT) IS STRUGGLING WITH THE "STAY" PART & ABOUT TO BREAK IT

CEDRIC "ADOPTED" LITTLE GRACIE & FOLLOWED HER AROUND ALL DAY

AN EARLY MORNING ROMP WITH RIC IN THE LEAD
<!FONT COLOR=#819FF7>CEDRIC spends July 4th weekend with foster family pool fun and fearless enthusiasm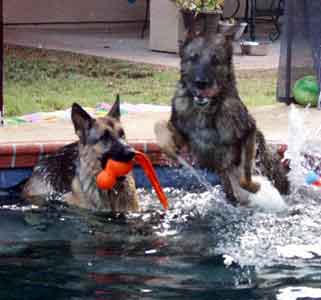 He has one more obedience class to go and doing quite well
UPDATE: Ric completed his basic obedience course and progressed as expected. He will be making a trip with all of his canine friends to his foster Mom's home up North soon to take a break from the heat. When he returns he will have 2 or 3 refresher classes after which he will be ready for forever.
We've learned a lot from living with him in a home setting; while he started out as a working dog for the border patrol, he really is not all that over the top drivey; he IS however, very active and, again, likes to be very busy...he's no couch potato. It's a safe bet he will be even more so when the weather is cool.
In essence, he does not need to have a job, per se, but must have a home in which his need for doing something is met. Other than that, he's somewhat of a mush pot, very affectionate and aside from his toys, craves human attention. Cedric is a balanced boy, calm in the house...a real sweetheart.

Please check back for photos of his new experience playing in the woods.

When September arrived Ric's foster Mom and the fur pack headed to her home up North to enjoy a weekend in the cooler climate and let the fur kids enjoy playing in the woods. Unfortunately, all did not go as planned and Ric was involved in an accident which is chronicled here:

click FOR "NO FUN IN THE WOODS

"

As 2016 comes to a close, we are grateful that our boy dodged a bullet..he is 100% and has no ill effects from his adventure in the high country. Shown below awaiting his very first Christmas as a family member, Ric (center) looks to the future, eagerly awaiting his forever home.

| | |
| --- | --- |
| BELLA, CEDRIC & MONTY..WHERE ARE THE PRESENTS?! | CEDRIC SAYS GHEEZ...WE HAVE TO WAIT |
Cedric is house trained, crate trained, knows his basic obedience, micro chipped, neutered and current with vaccinations. He is dog friendly, and neutral with strange dogs.
No cats or small dogs, kids over 10 years old best. He is a very active fella requiring ample physical exercise and mental stimulation yet calm and quiet in the house. He will not do well in a home where no one is home most of the day.
UPDATE 2018: Why is Cedric still with us, you ask; good question, simple answer:
Cedric is safe, happy and currently in a nearly ideal situation where he is, thus we are seeking an adopter that can provide him with an equal or better environment.
And exactly what is that?
He has a very large grassy yard in which he loves to run and chase his main squeeze, Bella; he clearly adores and respects her and they are great pals and playmates. He has a pool for the very intense and lengthy triple digit days during which there is little else to fill the need for constant activity and exercise.
He has grandkids to herd and watch over that visit frequently. And, best of all, a stay-at-home Mom whose adult son gives him plenty of attention and ball time and who also serves as a pet sitter for Mom's occasional weekend trips.
In addition, the patriarch of the pack, Monty, recently left for the Rainbow Bridge so Ric has helped Mom to fill that painful void. In fact, we can see a gradual change as Ric has started taking over the household "patrol" duties previously held by Monty.
If you feel you are the right forever for Cedric, we'd love to hear from you.
UPDATE JULY 2018: We have been watching what could ultimately become a dental issue for quite some time.This is also another reason for not letting Ric go; not everyone can afford canine dental work..it is as outrageous or more so than human dentistry. We have been down this road before with other dogs and even just the initial evaluation and consult was close to $1,000.
Up until now there was no sign of infection or discomfort. We were also trying to avoid yet another general anesthesia for him as he had been under 4 times in a month for his accident which was very traumatic for him. That said, however, we think it's time to have it checked out.
Ric will be seeing a board certified canine dentist on August 13th after which we should have a prescribed course of action and cost.
AUGUST 14th: Cedric saw Dr. Vissar yesterday and his surgery is scheduled for August 21st. We now have the estimate for the work to be done, however, it does not include anything found once he's under anesthesia and a more thorough exam of his mouth can be made.
So far it's $3,200.00 which will cover his pre-op labs/blood chemistry, X-Rays, 2 root canals, cleaning, anesthesia, antibiotics, pain shots and post op hospital recovery.
We would be very grateful for any help with covering the cost of his surgery; can you help us bring Cedric's smile back??
CEDRIC'S SMILE TEAM:
Kim DiRoberts
Heidi Bouten
Candy Brock
Marlene Appel
Arlene Quinn
Allison Gee
Dee Adams
Sarah Simon
Stephen Warburton
John & Beth Gray
Cheryl Anderson
Janet Spadora Advisory Fund
held at the Community Foundation for So AZ
John & Sandra Krisch
Angela Woellmer
Ellen Silverberg
Melina Garos
Click to donate by credit card or PayPal

or see
HOW TO DONATE (by check)
Thank you for your generous donation to our rescue!
Cedric sailed through his surgery and had less than 24 hours of discomfort..never even stopped eating. There was virtually no recovery period and no ill effects from the anesthesia.
We wish to express our gratitude to all of Cedric's Smile Team supporters for helping us reach his SMILE GOAL...You are the Best...........THANK YOU!!
Adoption fee $395.00 includes training.

HOW TO ADOPT OUR DOGS<!FONT color="#339999"><!FONT color="#33FF99"> -
<!OR>